One Heritage Holdings Group is a well-known integrated financial and real estate development enterprise in Greater China. Headquartered in Hong Kong, the group focuses on seeking diversified investment opportunities to accelerate global deployment and meet the needs of business expansion. On March 5, 2020, One Heritage Capital Management Co., Ltd. was awarded the financial license No. 4 and No.9 by the Hong Kong Securities Regulatory Commission.
太一控股集團是大中華享譽盛名的綜合金融及房地産發展企業,總部位于香港,集團專注于尋求多元化的投資機遇,爲加快全球布局,滿足業務擴張的需求,集團旗下的太一資本管理有限公司于2020年3月5日榮獲香港證監會頒發4、9號金融牌照。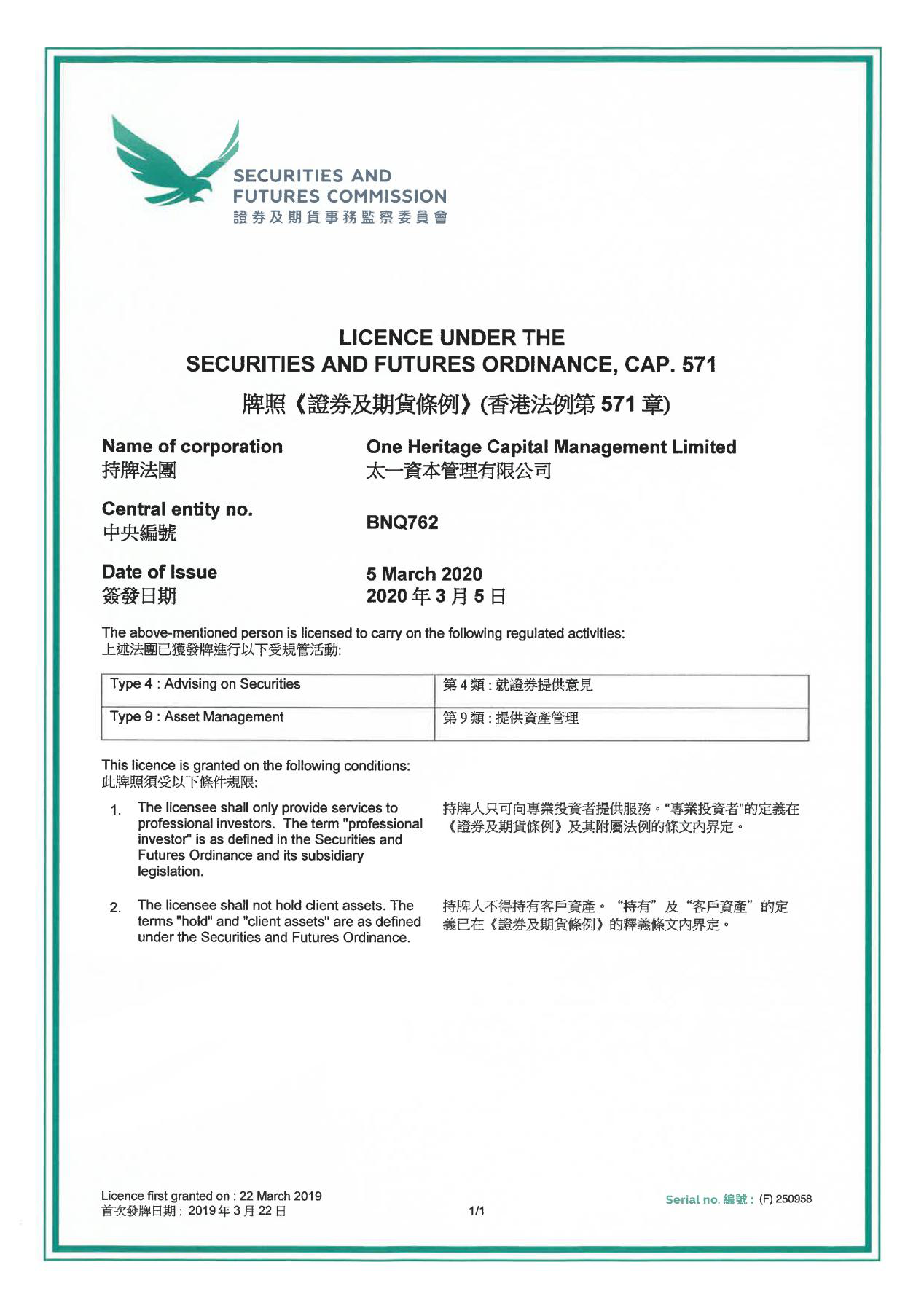 With the support of the financial license, One Heritage Holding Group can successfully participate in international market investment to expand global investment further, as well as enrich investors' product choices, and provide better services for investors and high-net-worth clients with global asset allocation and family wealth management .
在金融牌照的加持下,太一控股集團能更從容地參與國際市場投資,進一步擴展全球投資,豐富投資人的産品選擇,更好的爲投資者以及高淨值客戶提供全球資産配置和家族財富管理服務。
The No. 4 license is the securities investment consulting service license, which can provide opinions on securities, offer valuable investment advice to customers, and issue research reports on securities.
4號牌照,即證券投資咨詢服務牌照,可以就證券提供意見,向客戶提供有價值的投資建議,發出有關證券的研究報告等。
The No. 9 license is an asset management license. With this license, you will get a "pass" in the international capital market, which you can issue funds, directly participate in overseas investment, and manage the funds of domestic and foreign investors.
9號牌照,即資産管理牌照,持有該牌照,意味著在國際資本市場上獲得了"通行證",可以發行基金,直接參與境外投資,管理海內外投資者的資金。